This weeks Movie Monday is on a documentary about one of the most secretive, difficult, and interesting races in the world, The Barkley Marathon.
The Barkley Marathons: The Race That Eats It's Young
I watched this movie on Netflix.
From the very start of this documentary I was hooked! This is an ultra marathon of about 100 miles (although it's typically longer) that goes through the Tennessee wilderness.
It's very secretive about when and how to apply, and it is a very small fee ($1.60). If you are accepted you must bring with you a license plate, t shirt, or cigarettes depending on whether or not you have done this race before or not. Oh and not only do not many start it, it's very rare to have anyone even finish!
Here's a description from
IMDB
In its first 25 years only 10 people have finished The Barkley Marathons. Based on a historic prison escape, this cult like race tempts people from around the world to test their limits of physical and mental endurance in this documentary that contemplates the value of pain.
The Starting line & finish line is a gate!
The director of the race seems to be an eccentric man who genuinely loves the idea of a race that pushes a human's limits. Part of your fee is an item he is in need of, shirts, socks etc. Or his brand of cigarettes. Oh and no starting gun at this race! He lights a smoke to signal the start. Chip timing?HA! He uses books hidden on the course and numbering system to make sure you haven't cut the course.
All in all this movie is exciting and intriguing from start to finish! I highly recommend it if you are looking for something that is focused on a race that it completely insane!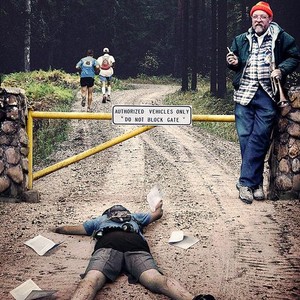 Have you watched this movie?
What did you think of it?
❤Sarah